In March 2019, the Consumer Financial Protection Bureau released its Fair Debt Collection Practices Act Annual Report, discussing trends in consumer debt collection complaints. The report also addresses actions taken against debt collection companies in 2018. As a refresher the FDCPA governs third-party debt collectors. The law establishes consumer protections, bars collectors from certain types of activity when they're collecting a debt, and gives the CFPB and the Federal Trade Commission the right to enforce the law.
"Not My Debt" - Consumers' Biggest Complaint Against Debt Collection Agencies
The Consumer Financial Protection Bureau received approximately 81,500 debt collection complaints in 2018. These complaints along with CFPB's other rulemaking actions will be addressed in Spring 2019, when the Bureau releases its Notification of Proposed Rulemaking.
Debt collector complaints fell into one of six categories:
The collector was attempting to collect a debt not owed
Issues with written communication about the debt
The debt collector made false statements or representations
Issues with communication tactics
The collector took or threatened to take legal action
The collector threatened to contact someone or shared information improperly
Breaking Down the Top Three Complaint Categories
Complaints regarding attempts to collect a debt that's not owed
53% are related to debt that does not belong to the consumer
23% are related to debt that was previously paid
20% are related to debt that resulted from identity theft
4% are related to debt that was discharged in bankruptcy
Complaints regarding written notification about a debt
72% are related to the consumer not receiving enough information to verify the debt
25% are related to the consumer not receiving notification of dispute rights
3% are related to not notifying the consumer that the communication is an attempt to collect a debt
Complaints regarding communication tactics
55% are related to repeated calls, either receiving several calls a day or receiving calls consistently over several months
31% are related to continued contact despite requesting no more communication
11% are related to the use of obscene, profane, or abusive language
4% are related to calling outside of what the FDCPA considers to be convenient calling hours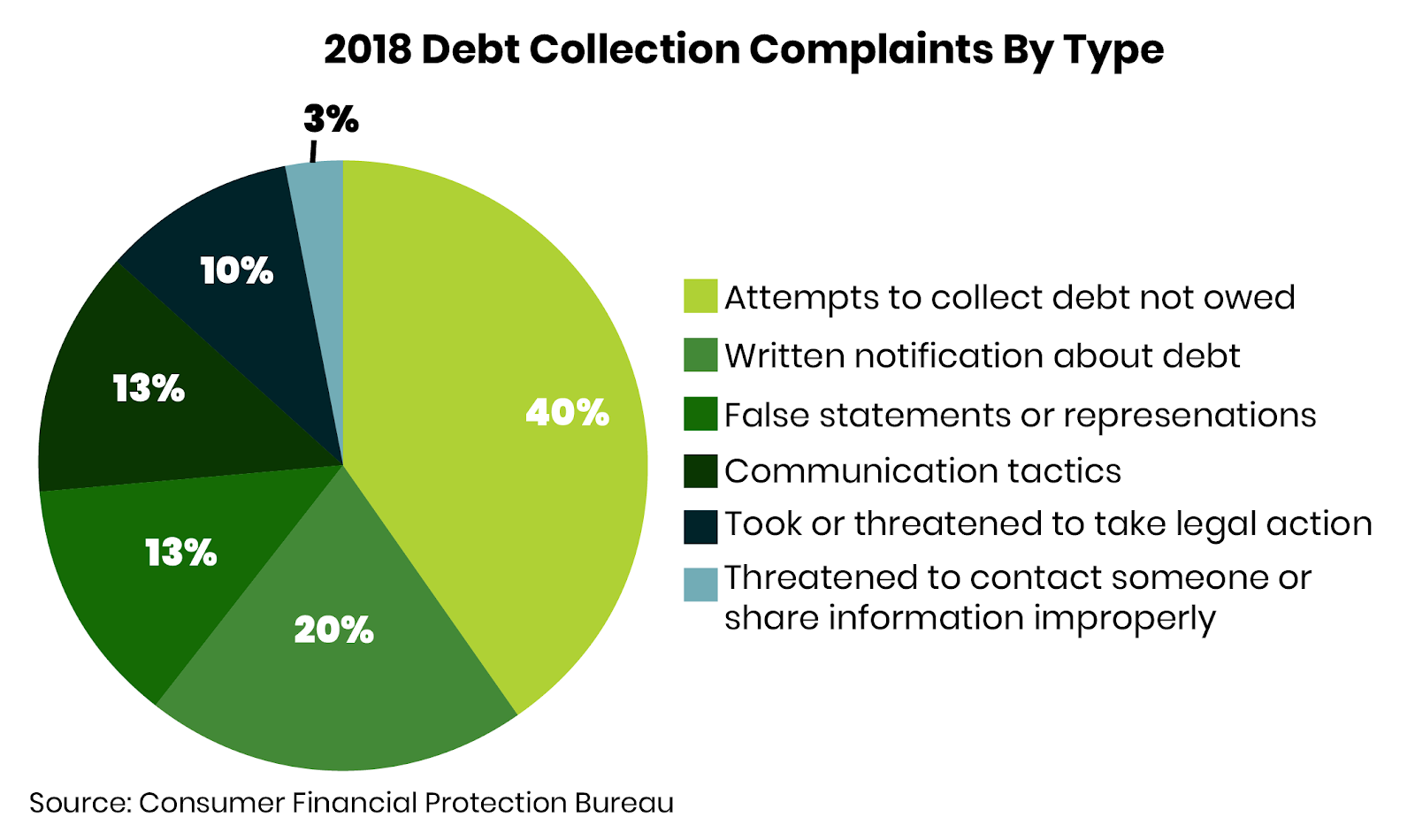 Having Original Creditors Send Debt Validation May Not Be Sufficient for FDCPA Compliance
In 2018, the Bureau's examinations identified one or more violations of the FDCPA - one of particular importance is collector's failure to respond to a consumer's request for debt verification.
The CFPB found that in some instances, collectors failed to respond to written requests for debt validation from consumers or were attempting to collect a debt prior to sending a response to the consumer or both.
Instead of sending proof of debts directly to consumers, more than one collection agency forwarded debt validation requests to the original creditors who mailed responses directly to consumers. It's important to note that the CFPB does not consider this satisfaction of the FDCPA's requirement for third-party collectors to send proof of debts upon consumer request.
The CFPB reports that one or more debt collectors are revising their debt validation policies, procedures, and practices to ensure compliance with FDCPA section 809(b).
Companies Are Liable for Knowingly Contracting Agencies Who Violate the Law
In 2018, the CFPB took action against National Credit Adjusters, LLC and its former CEO and part-owner after the Bureau's investigation found that NCA continued to place debt with companies knowing or disregarding the companies' illegal debt collection practices. The company is barred from certain collection practices and the former CEO is permanently barred from working in any business that collects, buys, or sells consumer debt. The CFPB also imposed $3 million penalties against both NCA and its former CEO.