Full-featured platform for customizable payment options
Receivables and collections firms use Portal Pro to manage complex payment workflows.
Contact Sales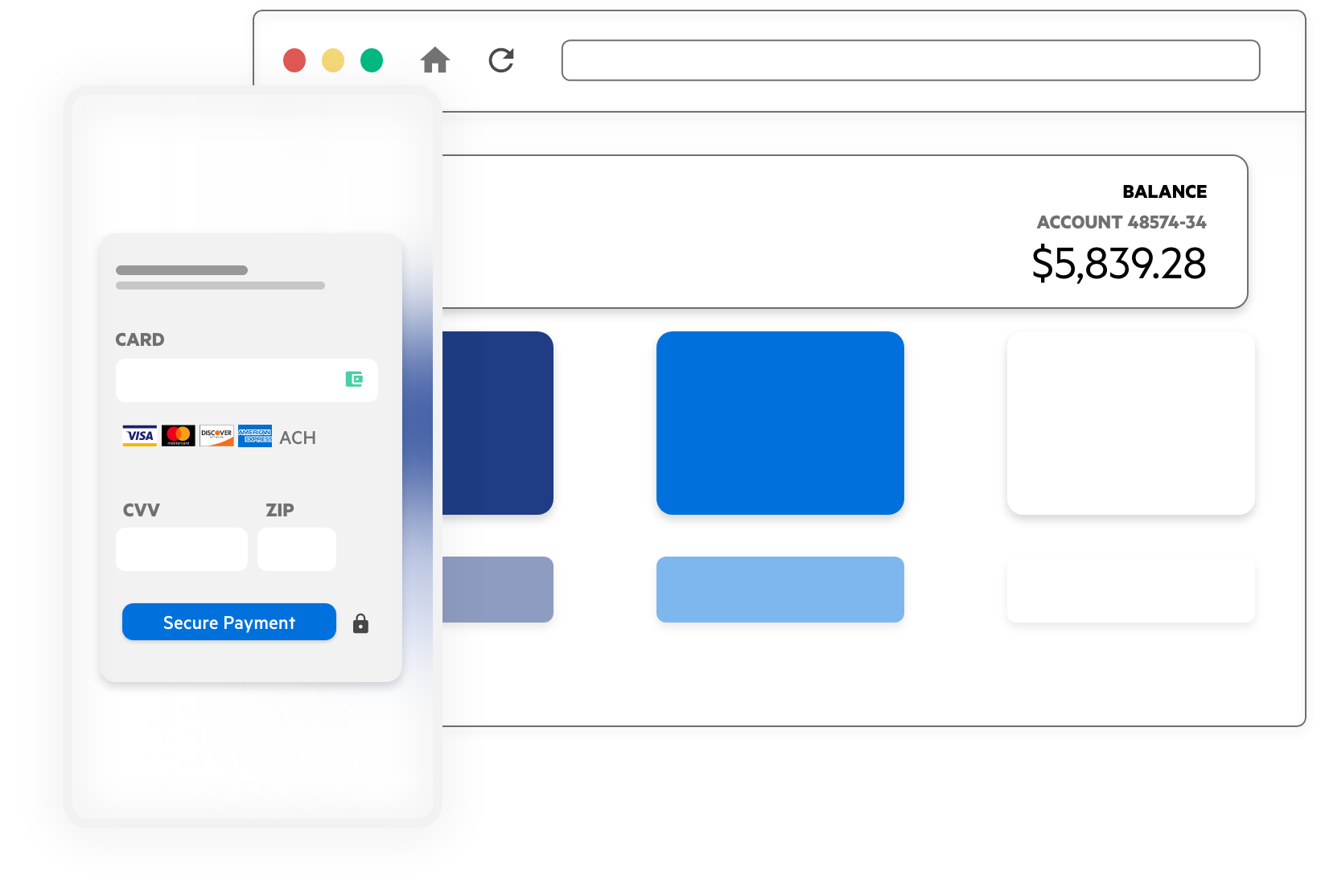 Flexible payment options
PORTAL PRO is packed with features that allow you present consumer account balances and customize payment options to fit your business needs.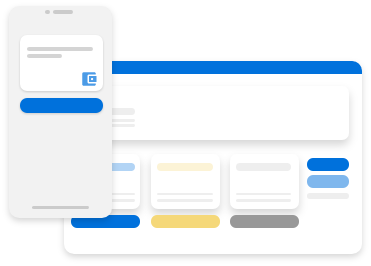 Simplify information flow
Integrate with leading receivables and claims management software to present consumer balance information.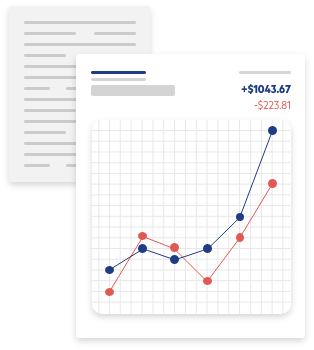 ENGINEERED FOR AUTOMATION
Design your perfect payment solution with customizable components that perform based on your guidelines.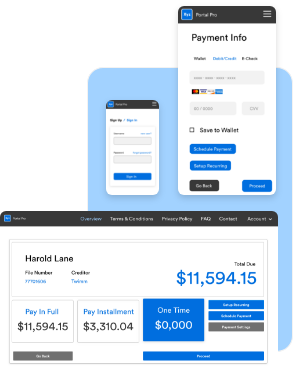 Extend convenient payment options
Use data to offer intelligent payment options. Allow partial payment or require full payment. Set minimum payment amount for partial payments.
Easily offer installment plans
Provide a maximum period for recurring payments and we'll do all the math. Consumers are presented with relevant payment options for reconciling their balance.
Increase consumer control
Optimize customer service by giving more control to consumers. Allow consumers to set their own recurring payments, view scheduled payments, and see complete transaction history.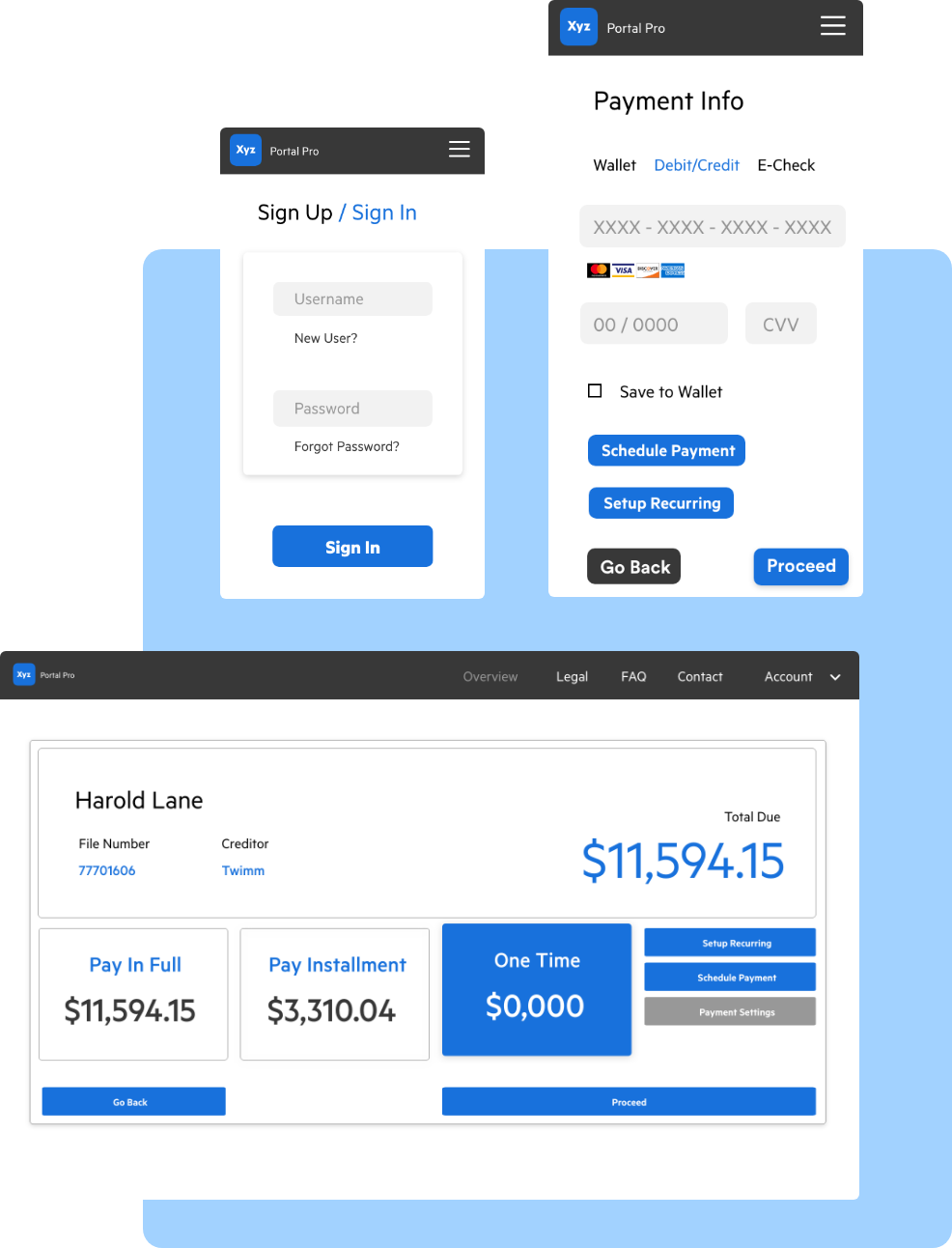 Process payments with ease
Drive efficiency and increase revenue with the fully integrated PORTAL PRO, built on highly scalable and customizable infrastructure.
Streamlined account handling
Use data to offer intelligent payment options for partial, full and minimum payments.
Friendly authentication
Account verification allows you to establish trust before communicating.
Improved consumer connections
Receive consumer financial information that allows you to make more informed decisions.
Communications your way
Add your logo, add disclaimers, and welcome message for a seamless consumer experience.
PAYMENTS
Give consumers their choice of payment options or adapt available options to fit your business requirements. Choose from credit cards, debit cards, or ACH.

CONVENIENT & COMPLIANT
Portal Pro communications, like post-dated payment reminders and required disclaimers, adhere strongly to FDCPA-regulations.
Our responsive customer interface adapts across browsers and devices of all sizes and is WCAG 2.0 compliant for wide accessibility.
Let's Work Together
Join hundreds of businesses who power their business with HealPay. Contact us to schedule a demo or start customizing your perfect payment solution.
Contact Sales