As consumers move away from landline phones and snail mail and more toward smartphones and emails, the collection industry also seeks better ways to communicate with consumers. The Consumer Financial Protection Bureau has proposed new rules regarding allowed debt collector communications, including text messages and emails.
Many businesses turn to third-party collection agencies to pursue unpaid balances after the consumer has defaulted on the original payment agreement. The new rules will have a significant impact on the 71 million adults who have an account in collections.
##CFPB Proposed Rules for Text and Emails
The new rule clarifies how debt collectors can use text messages and emails to contact consumers, while protecting consumer privacy and preventing harassment or abuse, false or misleading representations, or unfair practices.
Debt collectors would be allowed to contact consumers via email or text message through an address or phone number the consumer has previously used to contact the debt collector or that the original creditor or previous debt collector has used.
Emails and text messages would have to include instructions for consumers to opt-out of electronic communications. Debt collectors may presume it's safe to contact consumers through a specific medium if the consumer does not opt-out after the notice has been given and a reasonable amount of time has passed. Collectors would not be allowed to contact consumers on social media except through private messages.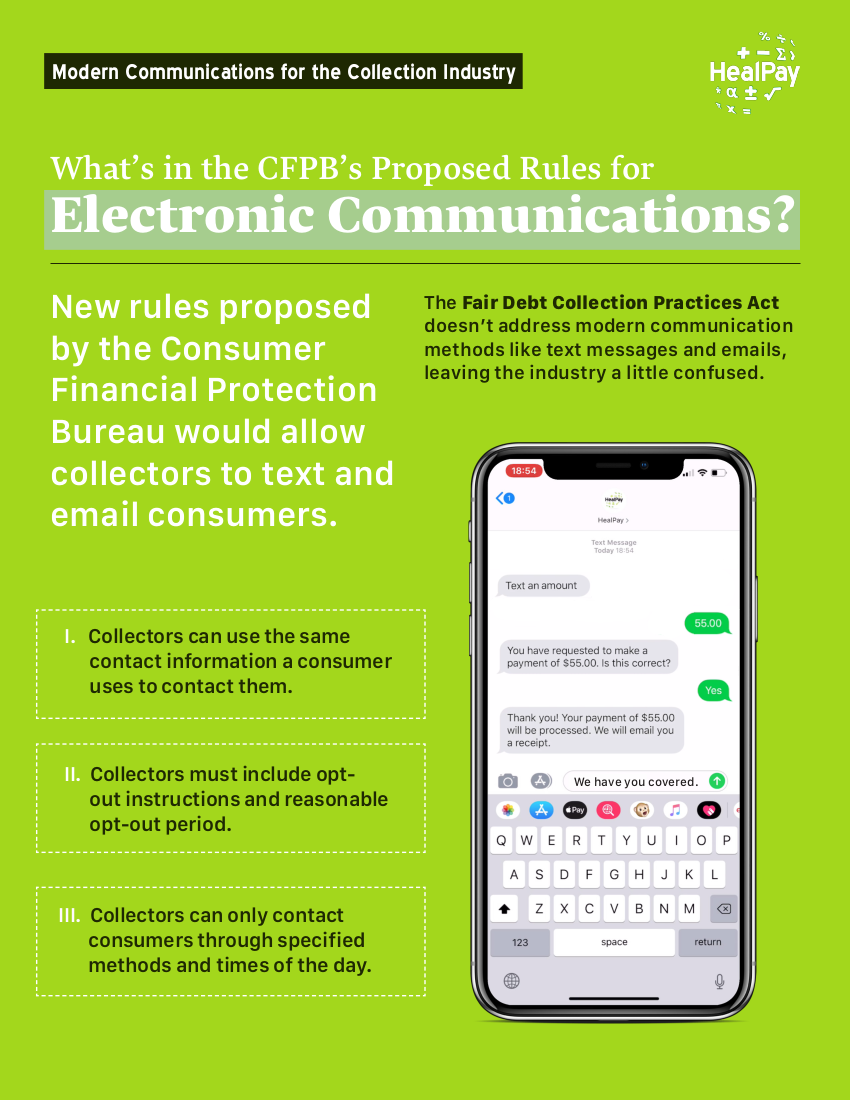 In keeping with the FDCPA's rule against contacting consumers at work and third-party privacy, debt collectors would not be able to contact consumers at a work email address or phone number.
The proposed rules for electronic communications would follow the current guidelines for communications. Debt collectors cannot contact consumers at inconvenient times or via a method that a consumer has specified they do not want to be contacted.
##Why Change the Rules Now?
The Fair Debt Collection Practices Act was written decades before text messages and emails were invented, much less primary methods of daily communication. The current law outlines how, when, and how often collections can communicate with consumers, but naturally it excludes technology that didn't exist when the law was written. Collectors who break the law, for example by using outlawed forms of communication, face fines and lawsuits.
Consumer communication methods, however, have dramatically changed the 40+ years since the FDCPA was passed. Changes to the rules may be long overdue. Updating the law to allow text messages and emails, even with some caveats, would give collectors more flexibility in reaching consumers without facing penalties.
The CFPB was created in 2011 as part of the Dodd-Frank Act to protect consumers from unfair behavior from businesses in the financial industry. The Federal Trade Commission, who had jurisdiction over the collection industry before creation of the CFPB, could enforce the FDCPA but had no legal authority to make new rules for the industry. The CFPB does.
##The Impact to Consumers
While text and email communications may be more convenient for collections, it could be intrusive for consumers. For instance, the CFPB received approximately 81,500 complaints against collection agencies in 2018 making it one of the most complained about industries. Of those complaints, 13% were related to communications from debt collectors.
In a letter to the CFPB, more than 70 consumer advocate groups urged the Bureau to limit text and email communications only to consumers who have opted in. Consumer advocates including the Center for Responsible Lending, the National Consumer Law Center, and the National Association of Consumer Bankruptcy Attorneys, also request that debt collectors be prohibited from contacting consumers through their work email or social media accounts.
The FDCPA currently requires that debt collector communications include a notice that the communication is from a collector. Text messages may not contain enough space for the mini-miranda, as it's known in the collections industry. In 2013, for example, the FTC charged a $1 million civil penalty to a collection agency who failed to properly identify themselves in text message communications to consumers.
Email may not offer enough privacy to comply with the FDCPA's rule against sharing information about a debt to third-parties.
As a payment solutions provider to companies who may be impacted by the updated rules, HealPay invites clearer rules with modern technology in mind.
##Collection Industry Reaction
In a letter to Congress, the Association of Credit and Collection Professionals advocates for both text messages and emails to be allowed and for collectors to be able assume these communications are received as long as they do not bounce back.
The agency also supports collection default dates to start on the date a third-party collector receives a debt, when the contract does not specify otherwise. Default dates are important for consumers to track how long a debt is legally enforceable and can be legally reported to the credit bureaus.
The entire proposed rule - which covers almost 600 pages - can be found via the CFPB's website. The rule is open for comments from the public for 90 days.