Both Check 21 and ACH allow you to receive payments from the customer's checking accounts while eliminating the traditional inconvenience of dealing with physical checks. For example, both options eliminate trips to the bank.
What is Check 21?
Check 21 refers to the federal law that governs the use of substitute checks, created by scanning an original check. The law, which allows businesses to process checks faster and more efficiently, has been in effect since October 2004.
Almost all checks can be converted to substitute checks including personal and business checks, government checks, U.S. Treasury checks, and money orders.
The major difference between Check 21 and ACH lies in the way the two payments are handled. With Check 21, paper checks are converted to digital format for processing. The substitute checks are then sent to the Federal Banking System for clearing.
Substitute checks must include certain information to meet the requirements under Check 21. The check has to include:
Accurate images of the front and back of the original check
Routing, transit and check numbers as part of the MICR line
Endorsements and processing data from the original check
The bank that created the check
The phrase: "This is a legal copy of your check. You can use it the same way you would use the original check."
Substitute checks also have to conform to industry standards for paper stock and dimensions.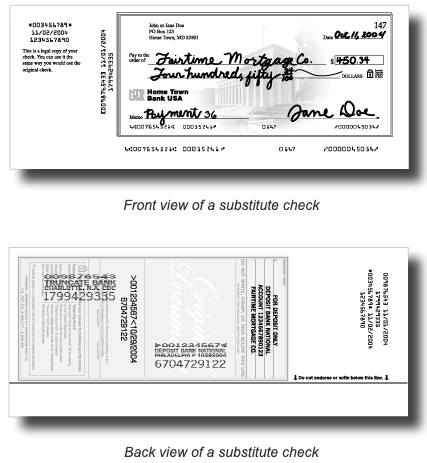 Businesses can use Check 21 to scan and deposit paper checks without having to take a trip to the bank. It allows consumers, businesses, and other entities to pay you with a physical check but eliminates the hassle of dealing with them. Every bank is required to accept substitute checks.
When a substitute check has been created, the customer won't receive a cancelled check with their statement. Instead, they'll receive a printed copy of the substitute check.
What is ACH?
By comparison ACH, or Automated Clearing House, is an electronic transfer from one bank to another. ACH eliminates the need to process physical checks by providing an electronic way for customers to provide authorization for payment.
With ACH, funds come from the customer's checking account, but neither a physical check or substitute check is needed. Customers only have to provide a routing and banking account number to deduct funds straight from the customer's bank account. Businesses can, however, convert checks to ACH, provided the customer is notified before the check is converted.
Customers must provide written, verbal, or electronic authorization for the merchant to process an ACH transaction and can optionally give permission for recurring payments via ACH.
ACH payments are more efficient and save money by eliminating the need to exchange physical checks. ACH payments, which are governed by NACHA rules and the Federal Reserve, don't post immediately as they have to go through a clearinghouse for batch processing. Fortunately, the timing of ACH payments has improved dramatically over the years and same-day ACH payments are now possible.
Looking for faster ACH funding times? HealPay can help! Contact us to find out more.