With the hustle and bustle of everyday life, plus dozens of other bills and expenses to remember, sometimes it's hard for customers to remember to make payments. Offering recurring payments benefits both you and your customers. For customers, recurring payments removes the responsibility of having to remember yet another payment. For businesses, recurring billing reduces billing costs and improves cash flow.
##What Are Recurring Payments?
Recurring payments uses customer provided information to automatically process customer payments for a specific amount of time.
Customers only need to enter their preferred payment information - credit card, debit card, or ACH - and the payment amount, then choose a payment date and number of payments and the recurring payment is set up. Future payments are processed based on the customer's preferred schedule.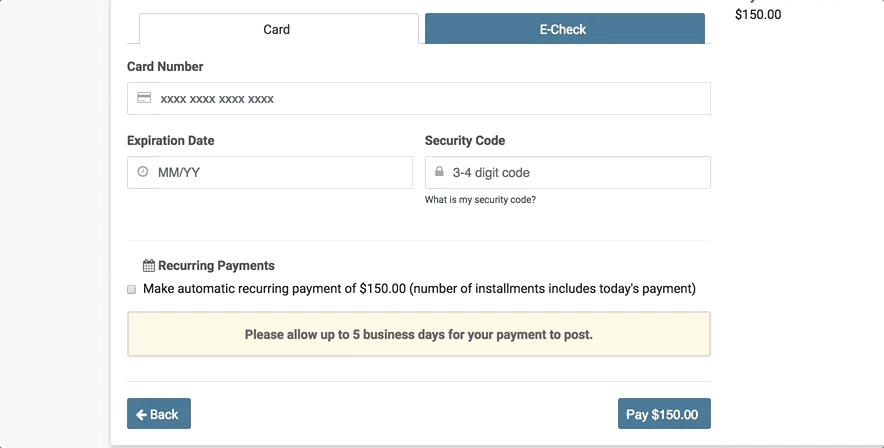 Customers receive an email payment reminder a few days before their payment is processed, which cuts down on billing costs tremendously.
Offering recurring payments gives customers a painless way to take care of their obligations while decreasing late payments. Customers don't have to remember to call or log into make a payment. Even the busiest customers get the benefit of on-time payments and progress toward settling outstanding debts.
##Recurring Payments in Action
Recurring payments can be applied in any industry where customers need to make repeat payments.
Our non-profit clients use the recurring payments feature to allow donors to set up automatic weekly and monthly donations for the entire year.

Our receivables clients give their customers the ability to pay off an outstanding balance with automatic installment payments.

Property managers give tenants the freedom to schedule their monthly rent payments.

Firms that bill monthly for a retainer or subscription offer recurring payments so customers can continue to receive services.
All customer information is encrypted and securely stored to protect business and their customers.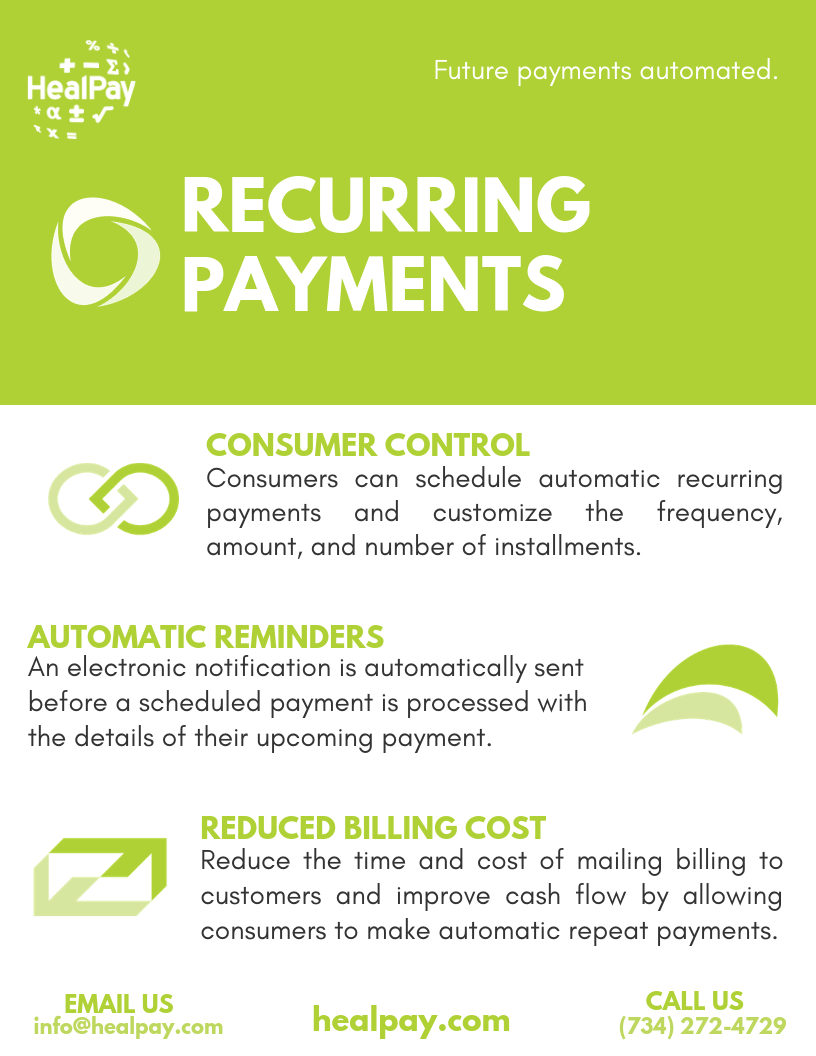 If you have any questions about recurring payments, contact us today to talk about your payments.